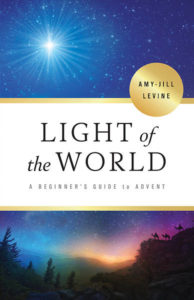 The book Light of the World by Amy-Jill Levine, University Professor of New Testament and Jewish Studies at Vanderbilt University, will be the focus of this study led by Pastor David Burt. In her book Amy-Jill Levine looks at the biblical verses entailing the birth of Jesus. This promises to be an enriching learning experience exploring the Christmas narrative.
Order the participant's book for $9.49 from Cokesbury or contact the church office to order a book for you.
The four week class begins Tuesday, November 30, at 2:00 p.m. at the church. You can also attend the study via Zoom.
Sign up at the hospitality desk, by calling the church office at 303-776-3523, or sign up online by clicking here. Please order your book by November 12 so it gets to you on time.
Many of us enjoyed Ms. Levine's study on Short Stories by Jesus a couple of years ago and this study promises to be just as thought provoking.