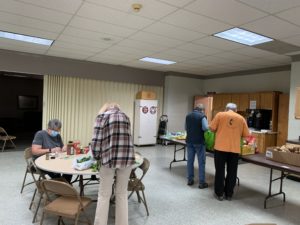 Wild Plum Head Start Program has been located in our church's education wing for over 50 years.  We are proud of this symbiotic relationship and hope to "up our game" by cultivating this connection in many different ways in the future.
On May 5th, the Adventurer's Sunday school class gathered to pack HOL bags filled with all the ingredients necessary to make two healthy dishes in celebration of Cinco de Mayo. Each bag had the recipe for a Healthy Mexican Soup and Simple Mexican Salad.  We are calling the program "Chef Hearty" and we would love for you to join us as we serve our Wild Plum community.
If you have any questions or would like to help out the next time please contact Tricia Grafelman.