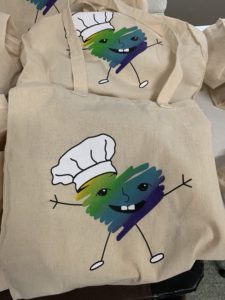 Our relationship with the wild Plum Center continues as we handed out our latest healthy Chef Hearty meal at the end of October. We served 42 families this time. As you will see in the pictures, we have purchased reusable bags with a Chef Hearty logo on them that we are asking the families to return each time so that they can get their next meal.
The meal that we provided in October was an "Italian sausage vegetable sheet pan" recipe. We thought you might want to try it at home for yourself as it is pretty tasty, so click here to download the recipe.
We would love either your monetary support or physical assistance as we continue to build the relationship with a Headstart program here in Longmont. We will be assembling the next meal on Wednesday, December 1 at 11AM in the fellowship hall.
If you have any questions please feel free to contact Tricia Grafelman or Rod Edmonds.