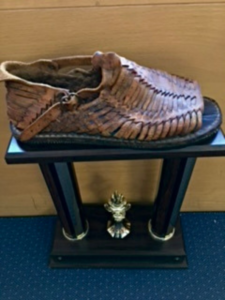 Heart of Longmont received the Crop Walk traveling trophy for having the most walkers in the 2021 walk. 29 walkers from HOL participated raising $5,500 dollars to support the Community Foodshare in Boulder county. Thanks to Jean Malchow for coordinating and organizing the walk.
The sandal on the trophy has traveled to Africa, Nicaragua and the Holy Land and is symbolic of walking step by step with those who suffer from hunger and poverty.
The walk was the 29th most successful in history raising $44,283 dollars in Boulder county.