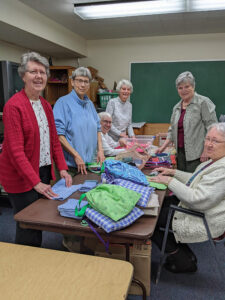 Days for Girls is a national organization that is creating a more dignified, free and educated world through access to lasting feminine hygiene solutions. Girls in developing countries cannot attend school during their menstrual cycle. They have no supplies for feminine hygiene and so they must stay home from school. This cuts short their education and is a great loss to the girl, her family, her community and her country.
Here at the Heart of Longmont, the United Women of Faith are supporting this mission project. Some women work at home cutting fabric, collating sets of fabric to be sewed, sewing bags, shields, and pads. And then the first Friday of each month about 7 of us gather together to trace patterns, cut more fabric, roll girls underpants and enjoy each other's company. This month we began filling the fabric bags that were made for us by Brenda Graffis. In the bag we put 2 shields, 8 pads, a washcloth, a small bar of soap, and 2 pairs of panties. We put together 132 complete bags and sent them off to be combined with other group efforts in the Mountain Sky Conference. We have lots more contents for more bags that we will work on next month. In the pictures you can see Gloria Hinz, Mary Ann Watson, Janice Jordon, and Sandy Rabenhorst. Phyllis Oling was off in another corner doing something else and Marty Allison was taking the picture.
Supplies Needed for more Kits for Days for Girls:
We need lots more Girl underpants – size 10 – 12 – 14
We need more 100% cotton fabric for the bags and shields.
We need more 100% cotton flannel in dark colors for the pads.
And we need more sewers!
Contact Marty Allison if you wish to contribute!