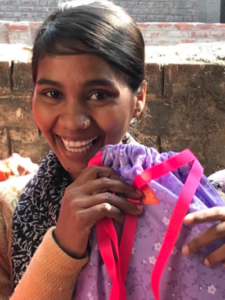 Attention Women of the Heart!
You are all invited to a Mission Action Event for "Days for Girls"*
January 8, 2022, 1:30pm — HOL Sanctuary and Gallery
Presenters:  Lauri Keil and Hope Law
Lauri has been an advocate for "Days for Girls" in our conference for several years and Hope has personally taken many of the sanitary kits to UM mission locations in parts of Africa.  They will give us insights into how these kits are received and what a difference they make in people's lives.
Refreshments and fellowship in the Gallery will follow the presentation. Then we will do some hands-on mission work: assembling some of the kits! We will close with a short devotion and prayer.
*This follows one of our church goals of focusing on Education.  Learn how this work effects girls' education.
Photos used in this blog post are courtesy of Days for Girls International.