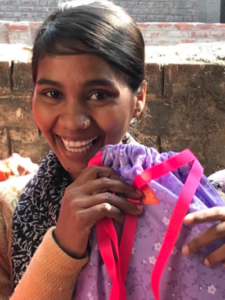 Have you ever wondered how girls in developing countries handle their feminine hygiene care? They have to sit at home and not attend school for a week every month. With our help, they can get back to school, earn an education, and become leaders in their communities. The Days for Girls program has reached more than one million girls and women and are still counting!! A group of women here at our church are busy making up hygiene kits for these girls and women. But we need YOUR help. We need about 200 girls underpanties in sizes 10 to 14. We prefer no white underpants because we will need to tie dye them before they go into a kit. Colored ones are GREAT! Bring them to the church and put them in the box in the Gallery marked "Days for Girls". We have sent off 132 kits so far and each kit has 2 pairs of panties so that one is being used and one being washed.
Do the girls really count on and use the kits?
A girl responded to this question and said "We will no longer have to fear." A school in Kenya contacted Days for Girls to say they were out of panties and liners and needed some ASAP! That meant that the kits were being used, and were being liked by the girls AND it had been 3 years since the kits were sent to that school. So more kits are needed all the time.
Questions? Contact Marty Allison via the church office.