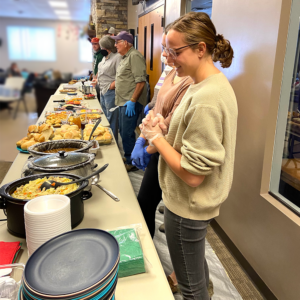 by Joan Edmonds
Amid the scurry of food carted out of the kitchen onto long tables, men and women sit in quiet conversation. Some are reflective while others lay out wet clothing before the heat of a fire. Aromas waft through the room tickling the senses.
Each time I serve these men and women a meal at H.O.P.E. I am filled with awe. Given their circumstances one would think they would be full of despair. On the contrary they exude light and gratitude – so much gratitude.
They relate in conversation how much they appreciate the hot food on a cold and snowy day. I leave filled with the light and hope they have shared.