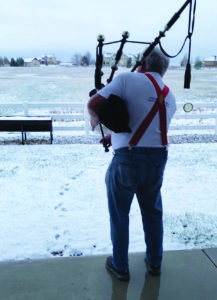 Jean Malchow has submitted an isolation goodie! At sundown every evening, her husband, Karl Scott, steps outside and plays "Amazing Grace" on the bagpipes to their neighborhood. Jean says that Karl has been playing the bagpipes for only seven years, but it's a good bet the neighbors enjoy his serenades! Jean says Karl played that same song on the bagpipes at their wedding. How special was that?
Jean adds, "And he's a real sweetheart!"
Keep making everyone smile, Karl!