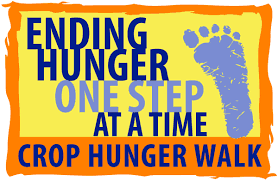 by Sandi Austin
It's sad to think that there are people in our community, our nation, and our world who face hunger every day. In the United States alone, one in eight people struggle to get enough to eat. Imagine what those numbers are worldwide, especially in poor or underdeveloped countries, where poverty is the principal cause of hunger. It has been reported that the causes of poverty include lack of resources, both environmentally and financially, conflict or war, and even hunger itself. 
Since its inception in 1947 under the umbrella of Church World Services, CROP (Christian Rural Overseas Program) has operated with the mission to ease hunger around the world. The Hunger CROP Walks officially started in 1970 in Pennsylvania and have grown to well over 1,000 communities nationwide joining in more than 800 Hunger Walks each year.
Linda Johnston has been involved with Hunger CROP Walk for 10 years, and finds that it's a great way to get out with others around the community and raise awareness of CROP and its mission.
"Posters are created for display throughout the trail," Linda said, "and the trivia questions about world hunger and the walk spark conversations and awareness."
Linda stated that an average of 300 people turn out for the Boulder County CROP Walk and, not too long ago, the traveling "Sandal Award" was given to Heart of Longmont UMC for having the largest number of walkers that particular year.
Donations to CROP Walk, which is our September Compassion Offering, go a long way, both locally and across the world, according to Linda.
"Locally, the money goes to Community Share Food Bank of Boulder County," she said. "Worldwide, in underdeveloped countries, CROP helps provide pumps to set up their own water systems. CROP teaches the people to farm and be self-supporting … anything to help with hunger."
For nearly half a century, Hunger CROP Walks have ensured that more people worldwide have access to nutritious food sources, whether it be by countering the droughts of Nicaragua, providing agricultural training in Indonesia, or by stocking the shelves of hundreds of food pantries across the country.
Back here in Boulder County, there's something everyone can do on any level. Linda stated that people can pray for the walkers, pray for those who are hungry, do the walk, or help support CROP with donations.
"It doesn't matter how far you walk. Just be a part of it, if you can," Linda said. "It's here in Longmont this year. You get out into the community, you're walking, and you meet so many friendly people along the way."
The 2019 Boulder County Hunger CROP Walk will be Sunday, Oct. 20, with registration at 1 p.m., and the start at 2 p.m. The host church this year is Westview Presbyterian Church at 1500 Hover St.
Please consider giving to CROP during September Compassion Offering and, to learn more details about the walk, go to www.bouldercropwalk.org.