The NEW King Soopers Community Rewards Program supports the ministries of Heart of Longmont every time you shop at King Soopers. In the past year, our church has earned an average of $500 per month just by folks like you using their gift card when purchasing gas and groceries. With the announcement of King Soopers Community Rewards Program, it is now even easier to shop for HoL!
No more reloadable gift cards!
Instead, you can now use your King Soopers loyalty card. All you have to do is enroll Heart of Longmont as your organization! After you enroll, Heart of Longmont will receive 5% back of every purchase you make when you scan your rewards card (or enter your phone number!).
To enroll Heart of Longmont, follow these directions:
Go to https://www.kingsoopers.com/

Hover over "Savings & Rewards," then click on "King Soopers Community Rewards" in the menu

On the next screen, click "Enroll Now"

Login with your current King Soopers account or create a new one! (can be linked to your current King Soopers rewards card)

To find HoL, search for "First United Methodist Church (Heart of Longmont)" or "XG017" and enroll the church as your organization!
This is what you should see after you enroll: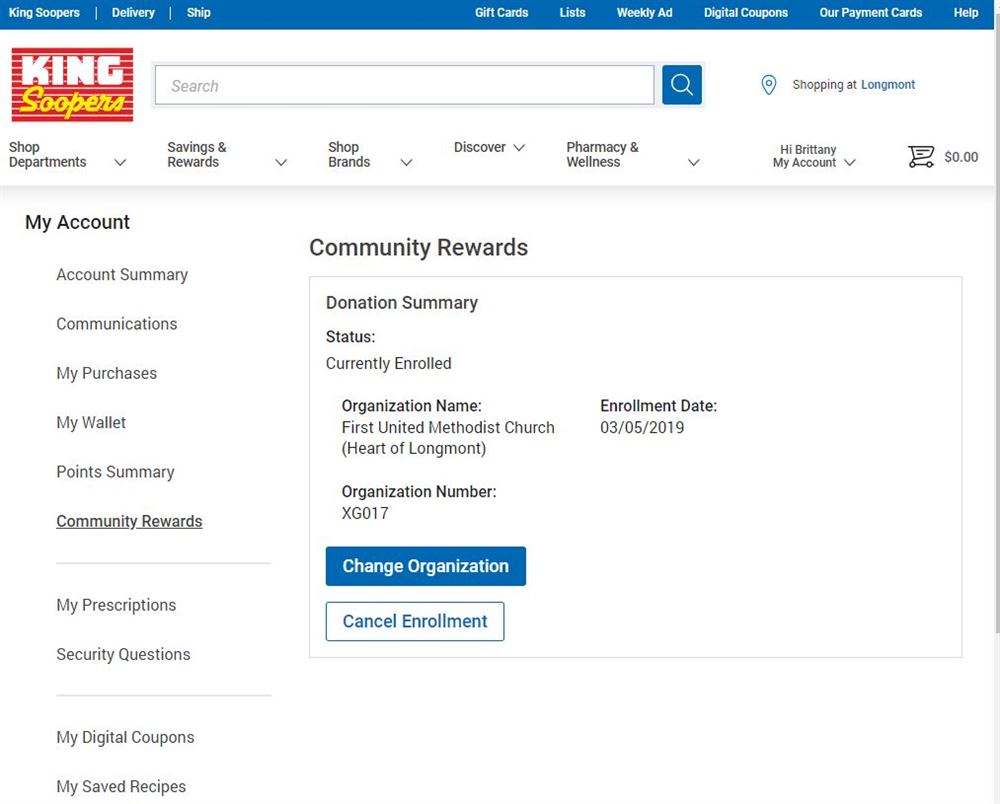 That's it, it's that easy!
This program officially starts on April 1, but register now so you don't forget!
If you are having trouble getting your rewards card set up, you can always swing by the customer service desk at your local King Soopers or stop by the church office for assistance.