"We help people move toward self-sufficiency by unifying community resources".
These two OUR Center clients are among the many who know the value of OUR Center's role in their lives.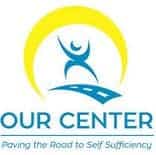 "The OUR Center helped me through a tough time. Although I am working, it took two incomes to pay the rent. I was sinking fast and nearly homeless, but the OUR Center helped get me into a housing stabilization program. I got the support I needed from the Resource Specialist, but I had to work hard on my budget and follow through."
   "With food cost so high, I would not be able to get my medication without the OUR Center's help with groceries. Now I can eat three meals a day and pay for my medication as well."
   Although OUR Center is not affiliated with any church, it formed in 1986 through the Longmont Ministerial Association when church leaders began to realize that their churches were not able to provide the needs of an increasingly needy population.
   Thus, the Outreach United Resource (OUR) Center, Inc. was formed. To help launch the non-profit, former Longmont mayor Larry Burkhardt was hired on a two-month contract to get the OUR Center rolling.
   By the next year, more than 7,000 individuals and 2,000 households had been served by OUR Center, which counseled those needing help with everything from food and clothing to help with rent, utility costs, and medical needs.
   In 2017, with the support of numerous community partners, OUR Center served well over 107,000 meals in its Hospitality Center and distributed over one million pounds of emergency groceries to over 18,000 households.
   The OUR Center continues its work of helping people move toward self-sufficiency to this day and, in doing so, has inspired some of its clients to pay it forward one day:
   "I wanted to thank you and the Our Center for helping me survive the ordeal I've endured. Hopefully sooner than later the shoe will be on the other foot and I will be able to do my part in supporting others who are down in life, rather than the one needing the support."
Please remember OUR Center during your January Sunday worship tithings.
This Month's Needed Items
Bottled Water

Canned Meat

Canned Fruit

Healthy Snack Items
Another Way To Help –
Help Feed Our Community
What:   Lucky's Market "Bags for Change"
When:  November 11 through February 2
Where: Lucky's Market Longmont, 700 Ken Pratt Blvd., Longmont
OUR Center will receive proceeds from Lucky's Market Longmont "Bags for Change" Program during this time.  Please remember to bring your own bags for shopping, get the wooden tokens, and submit your tokens to the store (designated for OUR Center) for us to receive resources for our food program.  Thank you!