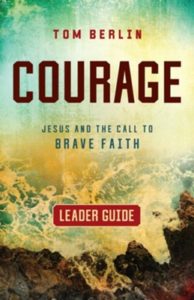 Courage is the foundational virtue required for the Christian life. But often we wonder if we have what it takes to live the vital life Jesus offers his disciples.  In Courage: Jesus and the Call to Brave Faith, pastor and author Tom Berlin challenges us to unlock the courage that we already possess as Christ followers.
We have options for those who wish to be in-person and for those who wish to join via Zoom.
SIX WEEK STUDY BEGINNING TUESDAY, MARCH 8  2:00PM  (Every Tuesday 2:00 for six weeks)
Sign up sheet is on the Hospitality Desk in the Narthex.