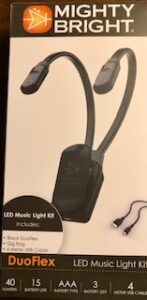 Ringing for you brings us joy. When we can actually see the music we are ringing for you, it brings us joy.
The bell choir has been using 6 sets of music stand lights that belong to the church as well as using music stand lights that belong to Linda. A couple of the lights are failing and darkness has begun to descend upon several bell choir members while attempting to see their music. What to do? Much laughter greeted the suggestion to memorize all our music! Fortunately through the kindness and generosity of Nancy Hand (one of our premiere ringers!) funds were granted to be used from the bell choir memorial fund to purchase 2 new music stand lights. The lights have three brightness settings and are very sturdy – they will be much appreciated and should last for many years.
On behalf of all bell choir members, we thank you Nancy!