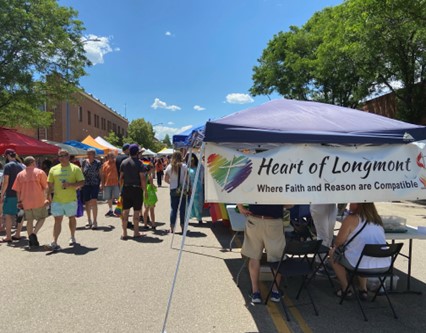 Though the mercury on the thermometer had climbed to a sweltering 100 degrees, the air pulsated with jubilation. People were at the PRIDE festival to celebrate and to show their rainbow colors.
The Heart of Longmont's booth was a hive of activity. People gathered asking about the church, collecting church swag and intently creating beaded key chains and rainbow arches.
Seven church members manned one hour shifts, downed cold water, and reveled in the open and accepting spirit of the festival. If you didn't get the opportunity to soak in the fun this year, don't worry, you can get in on the action next year!
Just ask Mary Ann and Keith Watson, Lynn Greenhalge, Jan and Dave Parry, Joan Riggins, Pastor David and Joan Edmonds about the upbeat feelings they left with that day. Even though we were present to serve, we were the ones spiritually fed and blessed.