Working toward our 64,480 acts of kindness continues. Last week giving Hearts of Longmont contributed 25 pounds of food to those in our community who are food insecure. Can you imagine being worried about having food to eat? No one should ever be hungry.
How else can we meet our goal toward acts of kindness? Well here are some more suggestions for you if you need ideas:
Make a contribution to a local non-profit such as Safe Shelter, HOPE, Cultivate, Meals on Wheels, The Inn Between.
Send a note to a church member who is home alone.
Send a birthday card to a church member celebrating his/her birthday this month. See the email blast sent out with April birthdays.
Send a check to the church for the compassion collection for the Asylum project.
Donate a book to the Little Library at the church by the East door. Both Spanish and English children's books are needed.
Collect items for Day for Girls. Items needed are gallon ziplock bags; colored wash cloths (not white); colored undies for girls (not white); girl sizes 10, 12, 14, 16; or women's size 5. Give your items to Marty Allison.
Wear a mask when out in public to protect others.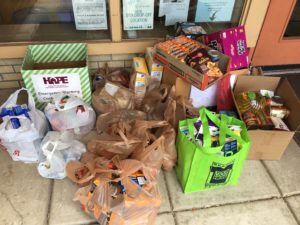 Update: In our two collections of food for The Our Center, giving Hearts of Longmont collected a total of 229 pounds of food! The kindness that came out of those giving acts helped put smiles on the faces of many people. Thank you for your generosity.