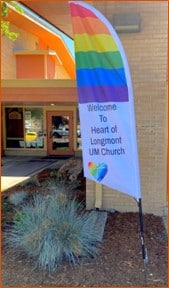 The Heart has a new flag proclaiming us as a welcoming church, regardless of race, sexual identity, ability, or economic standing.
The flag will flutter and wave from the church grounds, but it can be easily moved and can be used at any event.
There is a carrying case for the flag which will be stored in the janitorial closet by the west entrance.
The flag was purchased using an anonymous donation.