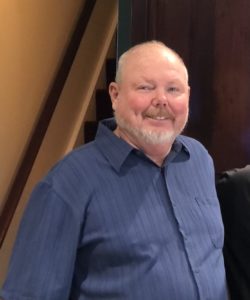 John Murphy is the backbone of our church. His presence, ability, knowledge, and commitment have been consistent since 1995.
John has been the chair of our Trustees committee for over 10 years.  He is the go-to man for all things related to maintenance, designing, and building.  He brings his trained skill as a construction manager and his kind and giving soul to the Heart of Longmont.  He is on "speed dial" for many people at the church, including the director of our head start program (Wild Plum).  John knows the ins and outs of our church building like no other.  His love for working with his hands and serving the Lord are obvious as he designed and built the Chancel Area in the sanctuary, the music risers, the playground in back of the church, the puppet theatre, the big stable used at Christmas for our children's program, the wood-working room, and is currently working on a project to redesign the tech area.
John has worked with and organized our churches efforts with Habitat for Humanity for years! He chaperoned two youth mission trips and went to Sagar Brown with UMCOR working in their community fixing homes. He has given tool instruction to many youth and youth chaperones so they can go out and do more of God's work on mission trips.  He was the Scout Master for Troop 64 and continues as the Liaison for that troop today. He organizes our of all church clean up days, has helped with sheltering through HOPE and the Common Cathedral program and has been instrumental on our Re-Open Team navigating us through the pandemic.
The Heart of Longmont is proud to announce John Murphy as our 2021 Quiet Disciple.