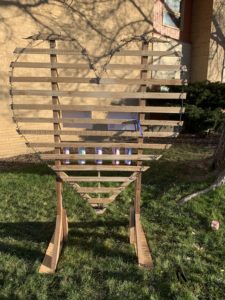 The Heart of Longmont just got a Prayer Heart.  What does that mean you ask?
Come to the northwest corner of our church, where you will see a large wooden Prayer Heart. All are invited to approach in contemplation, select a ribbon from one of the canisters behind the heart, say a prayer and then tie a ribbon onto the wooden prayer heart. God hears our concerns, our pain, our joy and our thanks. When we can't meet in person, it might help to come to the church, enjoy the outside and turn your prayer into a community symbol of hope during this difficult time.
Some churches have a labyrinth or a garden to find some peace and to say a prayer. It seems fitting that we have a Prayer Heart at The Heart of Longmont. Spread the word!