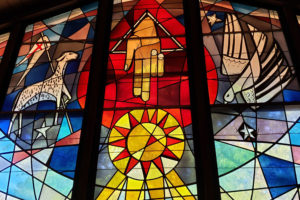 by Ann Yoder
The spectacular window, located in the west balcony, was designed by Ludwig Schremer, Christian artist and art consultant.  The window fits the architectural design of the church, described in contemporary newspapers as "one of the most beautiful edifices in the region."
The Holy Trinity is expressed several times in the window.  The hand and triangle symbolize God the Father, showing the hand of Creation and Command.  The red heart shape is the symbol of life.  The lamb represents the gift of God, His Son, Jesus Christ;  the dove, the Holy Sanctifier.  The purple circle around the various symbols reminds us that the three persons, God the Father, God the Son and God the Holy Spirit are one God, one Unity, our  Lord of Heaven.
The glass in this religious window was made in a studio in West Germany near the city of Frankfort, and is of the best quality to be found.  1,000 pieces were needed to complete it.  The glass will not fade nor peel because it is made of genuine European mouth-blown antique glass. Which at the time of its construction was the only hand- made glass in the world.
The designer, Ludwig Schremer, is a graduate of the College of Fine Arts in Kaiserslautern, Germany, and has his Master of Arts degree from the University of Munich and the Sorbonne in Paris.  His studio, Schermer Art Studio, was located in St .Paul, MN.
A highlight of the Consecration Day (Nov. 22, 1959) was the arrival from Germany of the stained glass window.  It was not expected in time for the consecration, but its placement was brought about by the presence in Longmont of the artist.  He returned to St .Paul to hurry up the window shipment, going through two customs houses and two brokers for its arrival here Sunday.  He supervised workers late into Saturday night to complete the window for the Sunday services.
The window remains an architectural and symbolic feature of the church building.  Attendees at the Consecration service, who did not expect to see the stained glass window, proclaimed "it's a miracle"!  Thus, that window has been named "The Miracle Window."
Sadly, our east facing congregation doesn't see the west window during services.  As you leave the altar following communion or as you exit the sanctuary, LOOK UP. Night time offers the most beautiful view of the lighted window.  Study the symbols, the art work in all its beauty and you too will proclaim "ITS A MIRACLE".