by Sandi Austin
We see it in the news all too often. Natural disasters occur in our own country and around the world, and people impacted in those areas are often staring at a long road to recovery. While it's devastating to watch the news footage unfold, imagine the desperation of the disaster victims.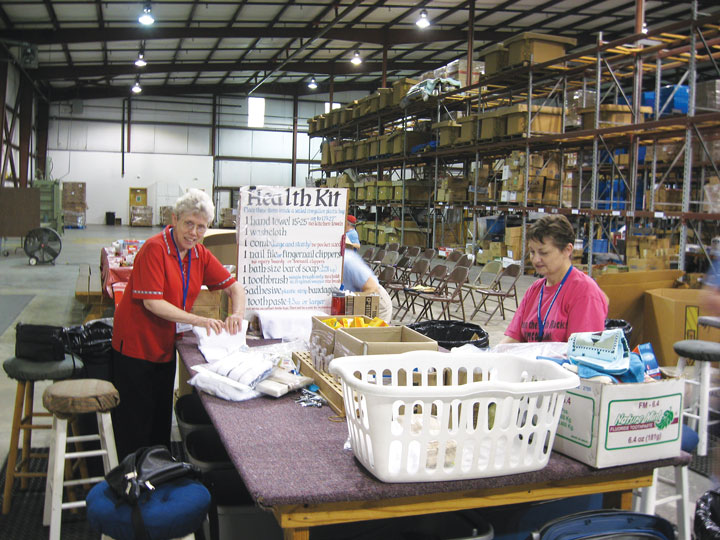 As affected disaster areas struggle to recover, they may reach out to UMCOR (United Methodist Committee on Overseas Relief) for help, at which time UMCOR is at the ready. To be sure UMCOR is ready to respond when asked, volunteers work tirelessly to be sure there is a full inventory of health kits and cleaning kits on hand at any given time.
Having addressed the needs of the world since 1940, UMCOR, formerly named MCOR (Methodist Committee on Overseas Relief), follows its vision as a humanitarian relief and development of The United Methodist Church while it strengthens and transforms people and their communities.
In its mission, UMCOR operates two main supply depots – the UMCOR Sager Brown Depot in Louisiana and UMCOR Depot West in Salt Lake City. The Sager Brown Depot is the hub of UMCOR's relief and supply operations. Depot West is a 22,000 sq. ft. warehouse where volunteers verify and make the above-mentioned kits.
The kits that are assembled and made ready to be sent to disaster areas are vital for the recovery of disaster victims. Hygiene kits contain hand towels, washcloths, combs, nail clippers, bar soap, toothbrushes, toothpaste and adhesive bandages. The cleaning kits – or flood buckets – contain laundry detergents, household cleaners, dish soaps, clothespins, clotheslines, sponges, trash bags, cleaning wipes, air fresheners, insect repellent sprays, and kitchen gloves.
This Sunday – March 31, UMCOR Sunday – Marge Clydesdale will speak to the congregation about the Heart of Longmont UMC's participation in an upcoming trip to Depot West in September. Our church family will be represented by a team of volunteers who will be heading to Utah the week of Sept. 8-14 to put together hygiene and cleaning kits.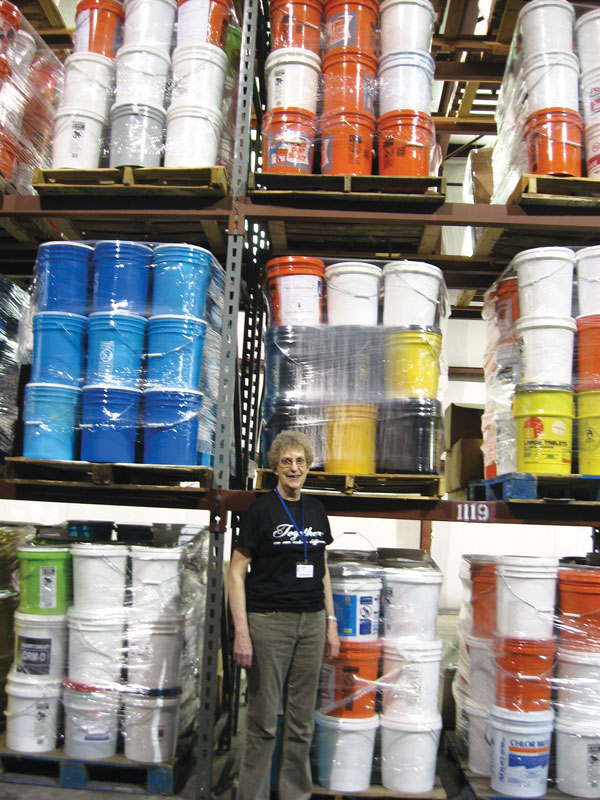 "At this time, there are about five people going for sure," Marge said, "but we certainly welcome others to join us as we help UMCOR respond to some of the greatest current needs in the world."
Marge encourages people to call her at 303-485-5866 with questions about UMCOR or the upcoming trip.
UMCOR Programs seek to alleviate human suffering by providing:
1. Relief, response and long term recovery grants when disasters overwhelm a community's resources and ability to recover on their own.
2. Technical support and training for partners to address emerging and ongoing issues related to disaster relief, recovery and long-term health and development.
Our work is done in the spirit of Jesus Christ, preserving the dignity of persons without regard to religion, race, nationality or gender. UMCOR seeks to enhance the quality of life in the human community.