by Dave Perry, Lay Delegate to Annual Conference
This AC was the first Virtual AC.  And in a way similar to the Zoom committee meetings, adult SS classes and You-tube Sunday Worship services, this AC was different; in some ways better.  As in all the above, I pray that the good/improved aspects of virtual gatherings will be preserved in the future.  I did miss the impromptu informal conversations and sharing of a face-to-face AC.
The "repairing the breach" theme from Nehemiah permeated the Worship as well as the Laity session.  I loved the worship sessions led by Bishop Oliveto.  The UMC and our nation have many breaches to mend. We are:
politically divided over

Racism – BLM,
What to do with flawed leader's statues?

theologically divided over

Marriage equality,
Is sexual orientation a choice?

and yes immigration divided over

DACA,
Border separation of children and parents, and
Asylum  seekers
See Micah 6:8 and  Matthew 25:40, 45 for directions.
Laity Session Highlights
Three candidates for Co Lay Leader had been nominated.  Each had helpful prerecorded statements.
Nancy Flint from NW Montana,
Gaylene Maka from Denver and the South Pacific, and
Barry Welliver from Utah.
We each voted for two. Nancy Flint and Barry Welliver are our new Co Lay Leaders.
Co Lay Leader Gayla Jo Slauson led a study from Nehemiah 2:17-18, 3, and 6:15-16 concerning what motivates efforts to repair the breach.
Do we have:
Unified vision and values?
Clearly defined tasks?
Commitment?
Gayla concluded,  all laity are essential workers to this task!
Margaret Hotze briefly introduced the Board of Laity members.
Rev. Michael Smith encouraged us to apply John Wesley's idea of The Power of Community.  We were encouraged to
Form Small Groups to

feed the hungry and
heal the lonely, both via the power of invitation.
Ruth Wills discussed Laity Scholarships – we are encouraged to apply. Click here for scholarship details.
Rev. Betty Wynn and Rev. Leah Colman led a Panel Discussion.

Japanese American UMs – history of Japanese Internment
Marge Taniwaki – Internment Camps Map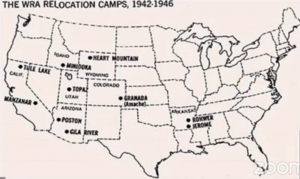 Paper dolls (Sudu) were presented at the White House to demand closure of ICE.

Gil Asakawa – discussed hate and fear of Asians.  Social stressers like covid19 lead to blaming Asians and violence against Asians.  E.g. "China Virus".
Rev. John Oda – We need to stand in solidarity with blacks and BLM.
Note the many parallels between Rehoboam's leadership and Trump's style.