by Sandi Austin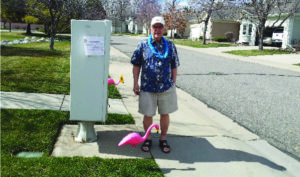 Mary Ann and Keith Watson have been hunkering down during this quarantine period. As with for everyone, washing hands and wearing masks in the grocery store have become second nature to them.
During this down time, the Watsons have been volunteering to spread the goodwill and cheer. Mary Ann has been busy sewing masks to be distributed by the Quilt Guild of Longmont. Keith set some chalk out on their driveway and invited neighbors to add their pictures or comments when the are out walking.
"A few people participated," Keith said, "but many more stopped to look at the artwork and the wisdom. April 1 (no fooling!) was designated as 'Hawaii Day' in our neighborhood and, thankfully, it was one of the warmer days!"
Keith sent a message to their HOA group on the eve of Easter indicating that, at 9 a.m. Easter morning, he was going to give three long blasts on his car horn to celebrate, and invited others to do the same, if they chose to.
"I only heard one other blasting response, but there may have been others further away that  I couldn't hear," Keith added.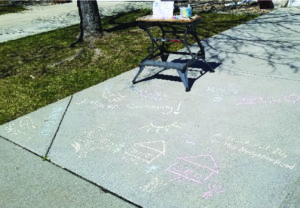 Not being with your loved ones during this time can be hard, but social media programs like Zoom make it easier. To keep connected with their family, the Watsons have had several Zoom meetings with their daughters and their families, even playing "Scattergories" with one another
Thanks, Keith and Mary Ann, for sharing your quarantine story with us.
Note: Do you have a quarantine story you'd like to share with us? Your fellow Heart of Longmont family members would love to hear it. Send it to Sandi Austin at sandi [at] heartoflongmont [dot] org. We'd love to see photos, too!