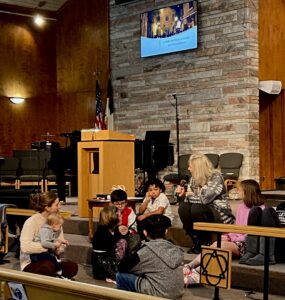 Our Mission
Heart of Longmont strives to enrich children with a strong foundation in the teachings of Jesus. We are an open and reconciling congregation and reinforce values of care, generosity, understanding and love to all people.
All teachers, nursery staff and volunteers are required to pass state and national background checks, a Safe Gatherings course and are trained to adhere to our Safe Sanctuaries Policy.
To read about what the kids have been up to and Children and Family Ministries' events, click here.
What We Offer
The Joyful Noise Youth and Children Choir is led by Kevin Lattu, Children Ministry staff. Choir practice is Sunday mornings from 9:30AM to 10:00AM. Children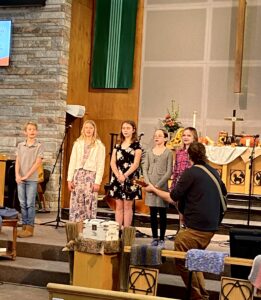 from kindergarten up to 8th grade are invited to be a part of the choir. Children perform at various church services throughout the year.
Children are invited to attend the first 20 minutes of the church service. Activity bags that contain activities for children to do during the service are available at the entrance to the Sanctuary. Children are invited to participate in the Children's Time during the service prior to the sermon. The message coordinates with the Sunday Scripture reading.
Sunday Kids meet after the Children's Time from 10:20AM to 11:00AM for Christian education activities. Lessons include a Bible verse and a variety of activities to go with that Bible verse. The class is led by Kevin Lattu and an adult volunteer.
Our nursery is available upon request during worship. The nursery is open to infants up to age 5. Infants and children are welcome in the church service.
Summer Kids Events

We have a number of events for kids during the summer. We have an annual Picnic in the Park where families can gather for food and fun. 2023 was the first year for our Courtyard Campout in the church courtyard, overnight camping with food and campfire songs. We also run a Saturday movie series where we show a family film on Saturday evenings. Check the HOL events page for current events.
Special Events
Heart of Longmont hosts special activities throughout the year around Christmas, Easter and Halloween. Games and crafts are based on Christian values and Bible lessons. Events are advertised and open to children in the community free of charge.