Wild Plum Preschool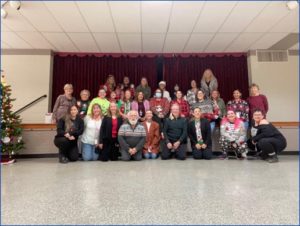 Our relationship began over 50 years ago in 1965 with the church providing space for the  preschool program originally called Headstart. That program is now Wild Plum and not only has early education for preschoolers but also infants.
While our primary focus is on the children and their families, we also offer support and connection to the staff with special recognition events to thank them for all they are doing.
One such focus is Chef Hearty. Once a month tote bags are filled with fresh ingredients for a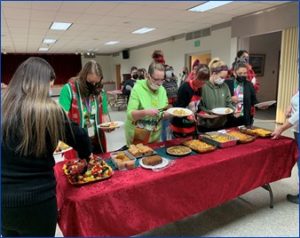 healthy meal for a family of four. Chef Hearty provides an opportunity for the kids to cook and enjoy a meal with their families.
Each Christmas the members of the church sponsor a gift basket program for a family enrolled in the program to ensure the children and their families experience the joy of the season.
We value our partnership with the Wild Plum staff and are constantly looking for more opportunities to support the children in the program.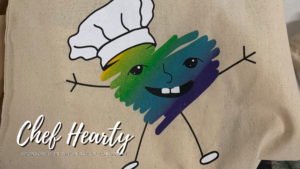 Nahucalli Mexican Folkloric Dance Troupe
In the fall of 2021, the Nahucalli ("house of dance" in Aztec dialect) Mexican Folkloric Dance Troupe made The Heart of Longmont their home for dance practices. Comprised of ages ranging from 5 and up to adults the dance troupe performs traditional Mexican dancing for a variety of events in Longmont.
Outreach United Resource Center 
The Heart of Longmont has been committed to a long standing relationship with the Outreach United Resource Center (OUR Center).
The organization had its founding in 1986 when the Longmont Ministerial Association church leaders were overwhelmed by requests for help in the community. Reverend Keith Watson, who was the pastor of First United Methodist Church as Heart of Longmont was then named, was part of the association. Keith states that Alan Landes, associate minister of Central Presbyterian Church, took the lead on the project.
As Keith remembers the Longmont Ministerial Association took several months to hammer out some of the many details such as where a central office could be housed, how much each of the churches could provide for the endeavor, how it would be administered and how commitments from other churches and community organizations could be solicited. According to Keith it was time and energy consuming work, although the end result has been invaluable to the community of Longmont.
From the efforts of 25 churches the origin of the OUR Center emerged. The name came from Marge Tiller, a nun at the Spirit of Peace Catholic Community. Tiller derived the name from a dream she had. Eric Doering suggested that "OUR" stand for Outreach United Resources. By March of 1987 the Center became a reality and in 4 months 7,000 individuals and 2,000 households had been helped.
Those in need of affordable housing and suffering from food insecurity continue to be clients of the OUR Center today. The community of Longmont strives to find solutions and Heart of Longmont is part of that effort.
In 2022 HOL contributed 1341 pounds of food to the OUR Center.
HOPE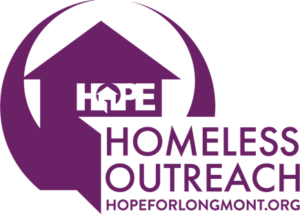 Heart of Longmont has had a long relationship with HOPE (Homeless Outreach Providing Encouragement).
In 2015 United Methodist Women, now United Women in Faith, spearheaded by Catherine Murphy partnered with HOPE to present a symposium on homeless awareness to the public. One hundred were in attendance. The symposium was a community dialogue featuring a panel of specialists who worked with Longmont's homeless population.
Panelists included representatives from the Longmont Police Department, St, Vrain School District and several nonprofits.
Christmas of 2015 Heart of Longmont offered "Room at the Inn". Shelter, meals and activities were offered for two nights. We hosted this event again in 2016.
A summer event of hair and foot washing along with lunch was provided for those experiencing homelessness.
Every 5th Sunday a church wide activity to prepare peanut butter and jelly sandwiches took place. The sandwiches were handed out when HOPE outreach provided Angel Meals in our parking lot.
We opened up our building as a shelter at night for two years.
Currently church volunteers provide hot dishes to be served at the HOPE shelter at The Journey Church once a month. Several members volunteer to serve meals at The Journey Church and Messiah Lutheran Church on a regular basis.
Habitat for Humanity
The Heart of Longmont has partnered with St. Vrain Habitat for Humanity for several years. Recently members from HOL participated in an Apostles Blitz Build on October 22, 2022.
Habitat's mission "Seeking to put God's love into action, Habitat for Humanity brings people together to build homes, communities and hope" aligns closely with the Heart of Longmont's mission "To put more of God's love into the world".
A Precious Child
A Precious Child offers a variety of opportunities and resources to struggling families to empower children to succeed.
A Precious Child collects new and gently used clothing, coats, shoes, home goods and other essential items and distributes them to children and families. The items are placed in A Precious Child Boutique.
The Heart of Longmont serves as a "boutique center" for families to shop for essential items. Currently Wild Plum families are shopping the center in the church. There are opportunities for mass distribution events where A Precious Child Boutique at The Heart of Longmont will be open to the community.
Agape Safe Haven
In September 2022 The Heart of Longmont partnered with Agape Safe Haven to provide outreach meals every 3rd Friday of the month.
Agape Safe Haven is a faith based nonprofit providing services to those experiencing homelessness. Agape's mission is to "change lives one step at a time". Their center, located in North Longmont, provides day shelter. Clients have the opportunity to shower, wash clothing and bedding and eat a nourishing meal.
The organization also provides overnight shelter for 6 men. The beds are reserved for the men for one year on the condition that they remain sober, try to obtain employment, complete program requirements and have a desire to give back to the community.
Additionally Agape delivers outreach meals to those living on the streets every Friday morning. Heart of Longmont is an active participant in providing those meals once a month. Agape serves Longmont people with shelter, food, jobs and encouragement in the name of Jesus.
The Inn Between

The Heart of Longmont has supported The Inn Between for several years with compassion offerings.
The Inn Between nonprofit provides affordable housing and supportive services for families and individuals facing homelessness. The philosophy is that with stable housing, residents can focus on building the skills needed to find long-term stability.
All persons receive personalized support services to break the cycle of homelessness.
In 2022 Heart of Longmont offered more support to The Inn Between with a congregational vote to deed up to one acre of land for 2- and 3-bedroom housing units to the nonprofit. The project is called the Wesley Homes. More information can be found on our Wesley Homes page.
Longmont Food Rescue / Longmont Community Fridges
Heart of Longmont is now home to a Longmont Community Fridge in partnership with Longmont Food Rescue!
Longmont Food Rescue's mission is to create a more just and equitable food system by redistributing nutritious food that retailers have deemed food "waste" directly to individuals in Longmont who are experiencing food insecurity. Through the creation of partnerships with local retailers, restaurants, food producers, and nonprofits, they have created a community-led initiative that promotes food justice and supports sustainability goals. Visit Longmont Food Rescue's website to learn more about this amazing non-profit we are partnering with.
The fridge is located near the Blessing Box on the northwest corner of our building. Longmont Food Rescue will be providing some food to stock the fridge, but, like our Blessing Box, this is a collaborative community effort. Feel free to contribute as you are able or take food as needed. Please read these community guidelines for instructions for donating or taking food.